What Is The Keystone Society?
The DOORWAYS Keystone Society was formed in 2002 to acknowledge unrestricted gifts of $1,200 or more from individuals. Members at all giving levels receive invitations to a private Keystone cocktail gathering, private updates by leadership, invitations to all events, and more.  The photos below show the 2023 Keystone Society held at the home of Keystone member Jonah Houts. More than 80 guests gathered to celebrate the direct services made possible through Keystone Society donations–levels listed below.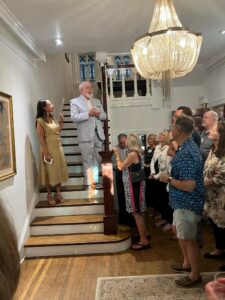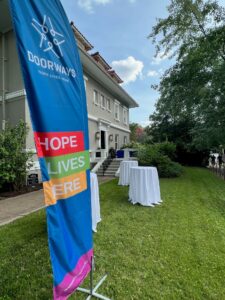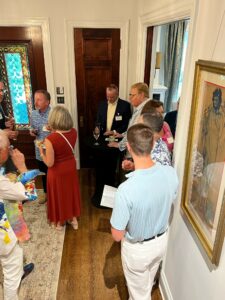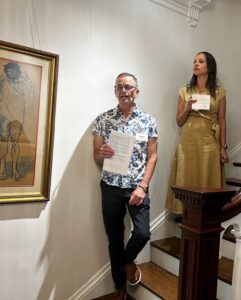 Keystone Giving Levels
Keystone Society – $1,200
Equivalent to the cost of a security deposit and first-month's rent for someone experiencing a financial or medical crisis.
Keystone Arches – $2,500
Equivalent to three-months support for a household in DOORWAYS' Residential program.
Keystone Capitals – $5,000
Equivalent to the cost of all utility payments for a Residential Program client for 12 months
Keystone Pillars – $10,000
Equivalent to four months of 24-hour residential care to an individual residing in the DOORWAYS Supportive Housing Facility.
Keystone Legacy – Planned Giving
The Keystone Legacy Society celebrates individuals who have chosen to ensure DOORWAYS' future by creating a legacy gift. Members of this Society make a "planned gift" to DOORWAYS through their trust, will, or other type of estate plan or gift. 
Keystone Communities – $1,000 or more
Keystone Communities offer the opportunity for local and regional organizations, communities of faith and other groups to demonstrate their commitment to people living with HIV/AIDS through gifts or grants of $1,000 or more.
Next Steps
To become a Keystone Member, please use the form in the right column. If you prefer an off-line option, please print and mail this DONOR FORM TO PRINT.
The Director of Development is available for all questions. Please contact Jim Timmerberg at jtimmerberg@doorwayshousing.org or 314-328-2705.
Thank you for your generous gift