Posted September 8, 2021
DOORWAYS, 4385 Maryland Avenue, St. Louis, MO 63108
Volunteer Awards
Presented at 2021 Annual Meeting 
Edlin Award, Generosity Award, & Volunteer Award 
Each year the agency holds an annual meeting to honor the generosity and spirit of our many volunteers. The 2021 event was hosted by the Honorable Terry Crow at the Saint Louis Club on Wednesday, September 8, from 6 p.m. to 8 p.m. 
Several awards are presented to recognize outstanding service to the agency. The 2021 awards and awardees are listed below. 
The Michael Edlin Award was presented to James Hinrichs, M.D.
The Generosity Award was presented to the members of the 2020 RED Gala Raffle Committee. 
The members were Lynn Abernathy, Rudi J. Bertrand and Paul A. Williams, Michael Brave, Kathy and Steve Eiser, Sandra and Bruce Meadows, Sue and Tony Potts, and Mike Rudolph.
The Volunteer Award was presented posthumously to Steven Bott.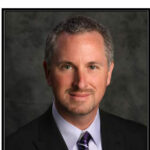 Awardee bios are provided below.
FOR MORE INFORMATION: 
Karen Carpentier
314-406-2268 | kcarpentier@doorwayshousing.org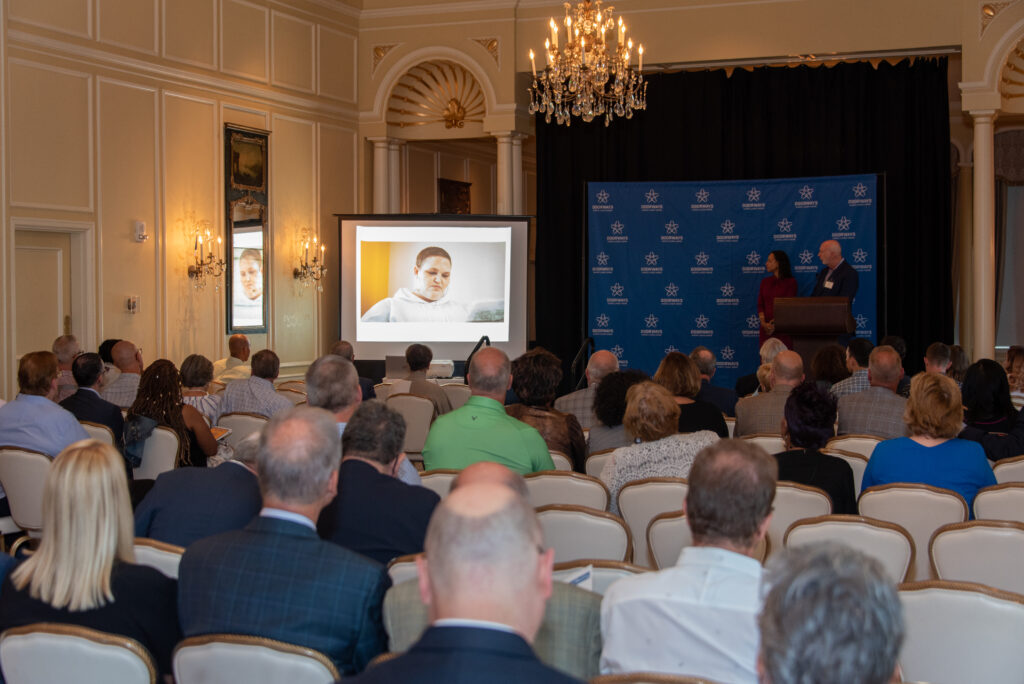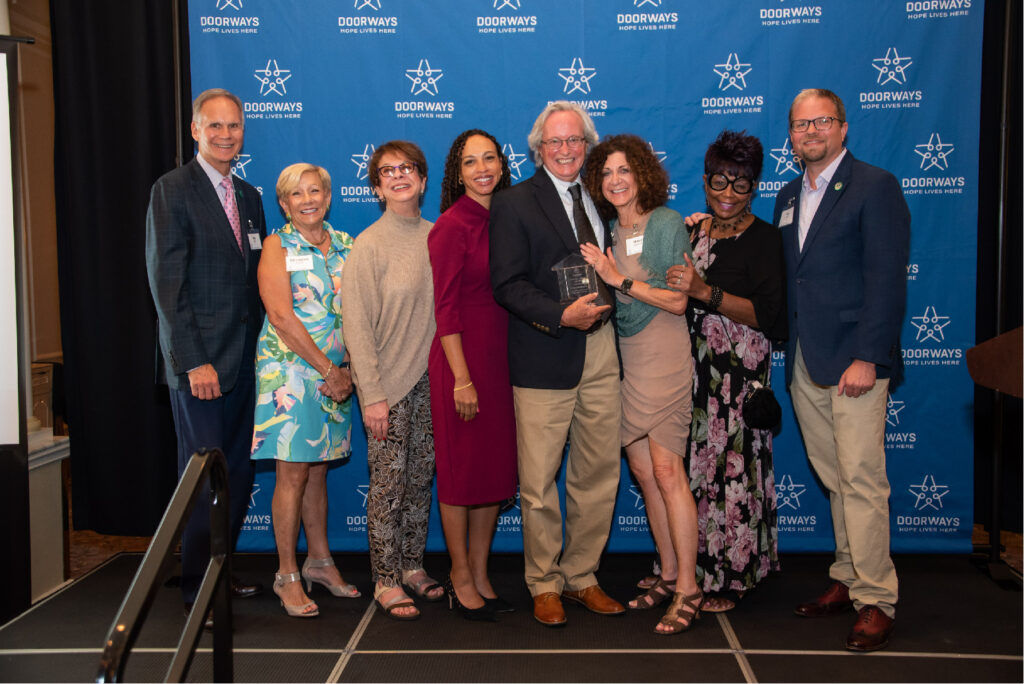 Photo of Dr. Jim Hinrichs accepting the 2021 Edlin Award. He is flanked by prior Edlin Awardees. From left are Jay Joern, D.D.S (2015); Christine Pennell (2014); Diane Gershman Levine (2017); Opal Jones (agency President & CEO); Dr. Hinrichs and Mary Schoolman; Brenda Armour (2019); and Jay Moore, M.D. (2020).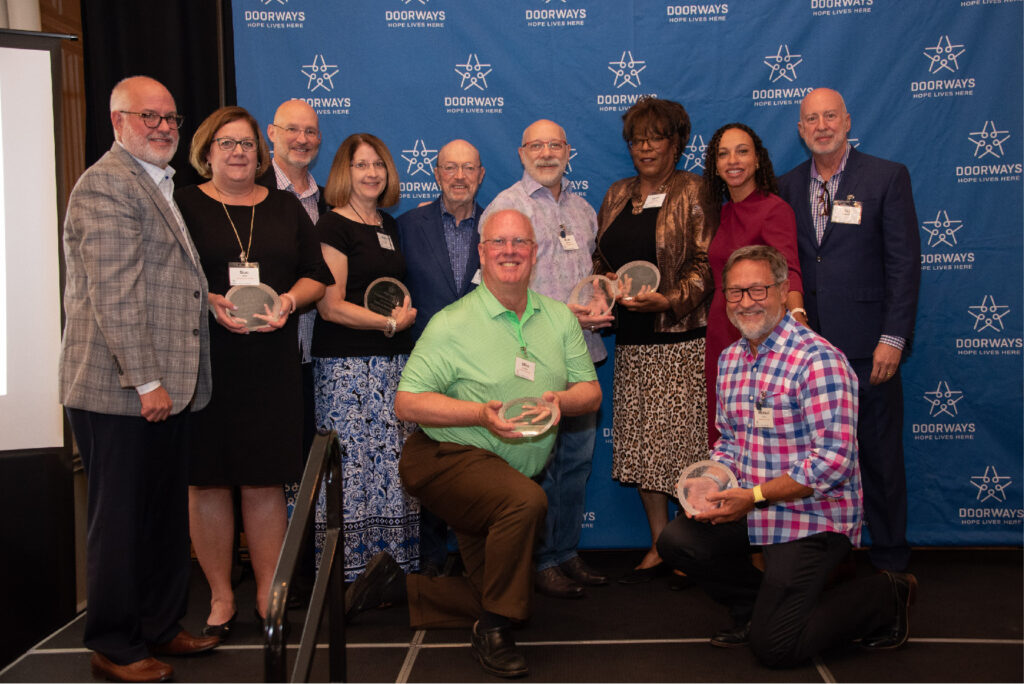 Photo of the RED Gala Raffle Committee accepting the 2021 Generosity Award.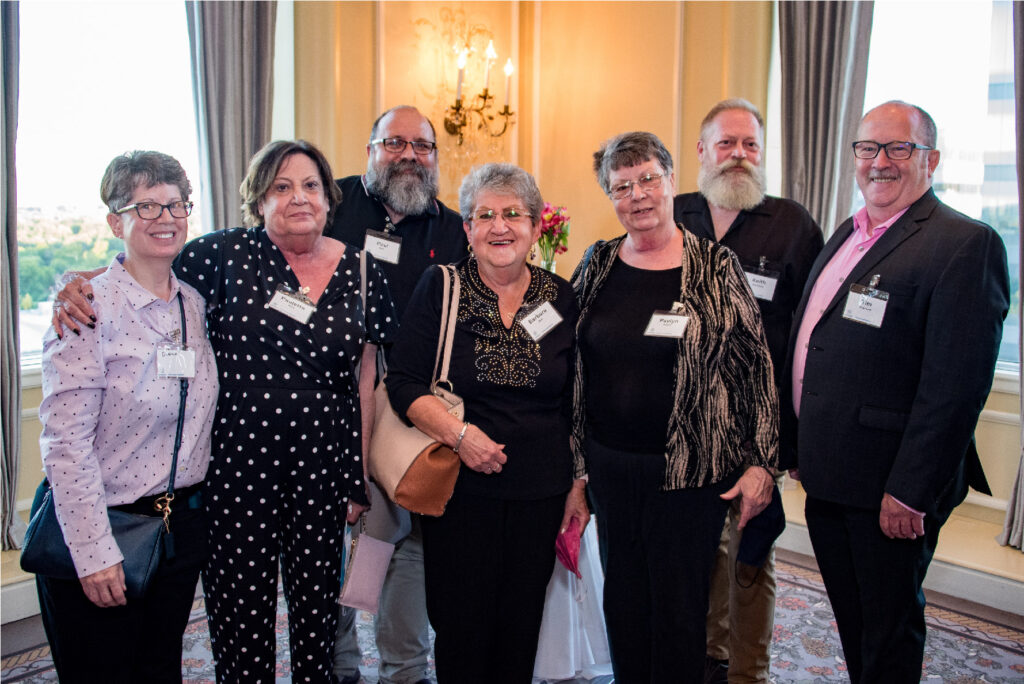 Photo of Steven Bott's Family in attendance to accept the Volunteer Award on his behalf.
Awardee Biographies
Dr. Jim Hinrichs
A celebrated infectious disease physician, Jim Hinrichs, M.D., is a graduate of Saint Louis University, Georgetown University Hospital, and Washington University Medical Center. He earned a Masters in Public Health from Johns Hopkins Bloomberg School of Public Health. Dr. Hinrichs has been in private practice for 40 years, serving communities in North County and St. Charles. Currently, he serves as the Infectious Disease Advisor for St. Louis County Department of Public Health. He is the proud father of five children, three live out of town, with the other two in the St. Louis area. Since the 1990s, Dr. Hinrichs has referred patients to receive excellent care at DOORWAYS' Cooper House. He has served multiple terms on the DOORWAYS Board of Directors, is a member of the DOORWAYS Keystone Society, and has generously supported the Beyond Tonight Capital Campaign and the RED Gala. Dr. Hinrichs distinguished himself by protecting the residents, staff and agency operations since March 2020 when the COVID-19 pandemic reached our region. As an infectious disease physician, he was prepared to provide much needed advice and counsel to help leadership staff and the board of directors set policy guidelines to protect our very vulnerable population.
BIO FOR THE RED RAFFLE COMMITTEE
The RED 2021 Raffle Committee is comprised of a group of self-named "RED Rafflers" who have individually and collectively served in some leadership capacity relative to the RED event and the RED Raffle. The RED 2021 members are: Lynn Abernathy; Rudi J. Bertrand and Paul A. Williams; Michael Brave; Kathy and Steve Eiser; Sandra and Bruce Meadows; Sue and Tony Potts; and Mike Rudolph. In a year of uncertainty, and with many shops and restaurants closed or nearly closed, these generous volunteers decided not to ask any of the struggling community businesses for donated merchandise and gift certificates for the raffle. Instead they purchased and donated nearly every item needed to assemble four exciting RED Raffle baskets, valued at more than $4,000. Several members of the committee also helped secure auction items. The RED 2021 event was virtual. Because of this committee's generous support, we were able to raise $24,630 through the auction, RED Raffle, and Golden Ticket sales.
BIO OF STEVEN BOTT
Steven worked for AMEREN for 15 years where he was recognized for his many accomplishments and contributions. He received the Thomas R. Voss Diversity Award of Excellence for his leadership in GLEAN, Ameren's LGBT Employees and Allies Network. A CPA, Steven earned an MBA from Webster University and a Bachelor of Science degree in Business Administration from the University of Missouri. He joined the DOORWAYS board of directors in 2015, served on both the Finance and the Executive Committees, and was a founding member of the Friends In Deed group. We could not have asked for a better board Treasurer or Finance Committee Chair. Steven worked very closely with our CFO, Gary Mudd, to ensure DOORWAYS' financial stability well into the future. Steven and his husband, Tim Stanfield, have supported our mission as Keystone Society members, RED Patrons, Friends In Deed supporters, and, recently, as Beyond Tonight Capital Campaign donors. Steven and Tim found extra ways to give above and beyond, like adopting families during our resident Holiday Gift Drives and volunteering at various properties. Steven always showed up to support DOORWAYS and even introduced his family to the mission. We will miss Steven greatly. He was part of our family, and we are grateful for the lasting impact he has had on our organization. Steven R. Bott, age 48, passed away on October 5, 2020 at home with his husband and their fur-babies, DJ & Jenny. He enjoyed traveling, time at home with his family and volunteering at DOORWAYS.