Posted September 11, 2023
DOORWAYS, 1101 N. Jefferson Avenue  63106


DOORWAYS Welcomes Four New Board Members for Three-Year Terms

Special thanks to those members completing terms
and those returning for continuing terms.

St. Louis – September 11, 2023    Four individuals have been elected to three-year terms on the DOORWAYS board of directors. They will be introduced at the first board meeting of the 2023-2024 fiscal year, scheduled for Wednesday, September 13.
LaTonya Jackson has earned increasingly responsible roles in the banking industry for nearly 10 years. Currently, she is the Assistant Vice President of Business Services at St. Louis Community Credit Union. She also strengthened the community development programs for Midwest BankCentre and Electro Savings Credit Union. LaTonya also has 5+ years of experience in case management, community and family engagement, and crisis intervention. She serves on the board of Better Family Life, Inc., St. Louis Voices Academy of Media Arts, and co-chairs the St. Louis Regional Financial Empowerment Coalition. Her Bachelor of Arts in Psychology is from Benedictine College, with an MBA from Fontbonne. 
LinkedIN Profile:  https://www.linkedin.com/in/latonya-r-jackson-mba-729076a9
Christopher Lintz is a brand and product strategy consultant. Prior work experience includes Director of Global Brand Strategy & Experience at Enterprise Holdings; co-founder of Hale Health, where he developed a multi-modal telemedicine platform to manage care outside the clinic; and roles in product marketing, research, creative consulting, and account planning at high-growth firms.  He completed a Bachelor of Arts in Quantitative Economics and a summer session at the London School of Economics.
LinkedIN Profile:  https://www.linkedin.com/in/chrislintz
Sarah York Moore has more than 20 years of professional experience in the Medical Device/IVD industry, consulting for both small and large companies operating domestically and internationally, each culturally diverse. Sara is known for her expertise in quality management, regulatory affairs, and  regulatory submissions. She is passionate about nonprofit service, including many years of involvement with DOORWAYS and other area agencies. Recognitions include membership in the FOCUS St. Louis 2015-2016 Leadership Class. Sara attended University of Missouri-Columbia, where she earned a Bachelor of Science in Chemical Engineering.
LinkedIN profile:  https://www.linkedin.com/in/sarahrymoore
Frieda E. Smith, M.A., is senior advisor and consultant at data2insight, LLC, an equitable measurement, evaluation, and assessment consulting firm based in Seattle, WA. She brings broad professional and community service experience, and an array of skills including expertise in training and implementing strong Diversity, Equity, and Inclusion (DEI) programs. Frieda holds an Associate of Arts from the University of Alaska-Anchorage; a Bachelor of Science and a Master of Arts in Organizational Communication from Southern Illinois University-Edwardsville; a Management Certification from the American Red Cross; and a Master's Certificate of Science Education from Washington University-St. Louis.
LinkedIN profile:  https://www.linkedin.com/in/friedasmith
Two long-term board members–Ed Giganti (retired from Catholic Health Association) and Keith Thompson (Stifel)–have rolled off the board after many years of service, including positions on the executive board. We are grateful to their commitment in the past and look forward to their future volunteer contributions.  
For a list of the many returning board members, please visit our Board of Director's web page:
https://doorwayshousing.org/about/people/board-of-directors/
In addition to service on the Board, DOORWAYS offers many other volunteer opportunities. To learn more about volunteering with DOORWAYS, please visit the Volunteer web page:
https://doorwayshousing.org/get-involved/volunteer/
About DOORWAYS:
Celebrating our 35th year, DOORWAYS offers housing and supportive services to improve quality of life and health outcomes for people battling homelessness and illness from HIV and other chronic conditions resulting from a life of poverty. Medical research has led to the development of medications that can render the virus undetectable. An undetectable virus is untransmittable, ending new cases. However, it is nearly impossible for an individual to manage an HIV healthcare regimen without stability within the social determinants of health: housing, nutrition/hunger, income/employment, education/skills-building, community, etc. In response, DOORWAYS has evolved over the years to provide assistive, emergency, flexible, and permanent housing programs; Metro and Outstate subsidies programs to prevent homelessness for those in their own accommodations through rent and utility assistance; and empowerment programs offering food security, pharmacy delivery, behavioral health counseling, employment/income assistance, self-development programming, one-on-one goal management, and linkage to resources. In fiscal year 2022, we served 3,184 men, women, and children in the St. Louis bi-state region. For more information visit: doorwayshousing.org.
 FOR MORE INFORMATION:
Karen Carpentier 314-328-2704 | kcarpentier@doorwayshousing.org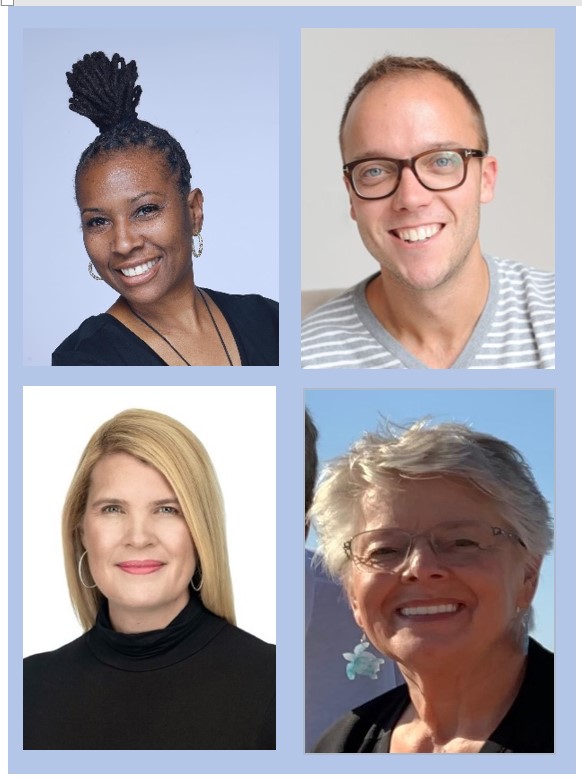 The four new board members are shown above.
Top row from left:  LaTonya Jackson and Christopher Lintz.
Bottom row from left: Sarah Moore, and Frieda Smith.