Posted January 13, 2023
Updated April 6, 2023
DOORWAYS, 1101 N. Jefferson Ave.  63106
DOORWAYS CEO RECOGNIZED AS ONE OF
ST. LOUIS' TOP EXECUTIVES
Congratulations to the 2023
St. Louis Titan 100 Business Leaders
Updated – April 6, 2023.  On April 6, family, friends, and colleagues attended the Titan 100 annual awards banquet to honor this year's "100 Titans of Industry."  Recipients are CEO's and C-level executives recognized for their leadership, vision, passion, and influence. Photos from the event are provided to the right.
St. Louis – January 13, 2023.  Titan CEO and headline sponsor Wipfli LLP are pleased to announce Opal M. Jones, President & CEO at DOORWAYS, as a 2023 St. Louis Titan 100. Jones will be honored at the annual Titan 100 awards celebration on April 6th, 2023, at The Factory (17105 North Outer 40 Road, Chesterfield, MO, 63005). 
With an established career as an inspiring visionary and leader in dynamic environments, Opal M. Jones became the second president and chief executive officer of DOORWAYS in 2012.  As the key executive, she oversees a $15 million organization budget that includes five housing programs, a licensed 24-hour residential care facility, multiple properties, and a staff of nearly 100 people. 
A 501(c)3 nonprofit located in St. Louis, Missouri, DOORWAYS serves over 3,000 people a year affected by HIV, homelessness, and poverty through services that assist clients in building the environments that support a life with the opportunity for independence and advancement—such as housing, health, income, education, and community (the social determinants of health). "This award is certainly an honor, as is serving a community of people severely disenfranchised and invisible to most of society," noted Jones.
ABOUT TITAN 100
The Titan 100 program recognizes St. Louis's Top 100 CEO's & C-level executives. They are the area's most accomplished business leaders in their industry using criteria that includes demonstrating exceptional leadership, vision, and passion.  Collectively the 2023 St. Louis Titan 100 and their companies employ more than 89,000 individuals and generate $26 billion dollars in annual revenues. 
Jaime Zawmon, President of Titan CEO:  "The Titan 100 are changing the way that business is done in St. Louis. These preeminent leaders have built a distinguished reputation that is unrivaled and preeminent in their field. We proudly recognize the Titan 100 for their
efforts to shape the future of the St. Louis business community. Their achievements create a profound impact that makes an extraordinary difference for their customers and clients across the nation."
Adam Herman, partner at Wipfli:  "On behalf of all the partners and associates at Wipfli, we congratulate all the Titan100 winners. It's an honor to recognize this special group of leaders in the St. Louis community. We appreciate the lasting impact each leader has made, and continues to make, in building organizations of significance both here in St. Louis and abroad. Your ingenuity and creativity have set you apart, and the honor of being seen as an industry Titan is most deserved."
ABOUT DOORWAYS
Founded in 1988, DOORWAYS provides housing and 360 degrees of wrap-around services to people at the intersection of poverty, homelessness, and illness from HIV.  In fiscal year 2022, we served just over 3,000 clients and their family members in 124 counties in Missouri and Illinois.
Expanding over the years to meet growing depth and breadth of need, DOORWAYS evolved from a hospice caring for the dying to an agency building lives for the living. We currently offer six housing platforms—comprehensive flexible housing with emergency housing options, assistive housing for those too ill to live independently, permanent housing for families with small children, residential housing, plus a metro and an outstate subsidies program to prevent homelessness for those in their own accommodations but temporarily unable to pay rent/utilities. Housing is supplemented by empowerment services such as individualized case management, resource referrals, self-development programming, employment support, and behavioral health care.
Through housing, health, and hope, clients begin their journey toward a more self-directed life. Once stabilized, we encourage clients to comply with an HIV-medication regimen that can help clients attain undetectable status. When HIV is undetectable, life span and quality of life improve as HIV is rendered untransmissable. Bringing an end to new cases of HIV will ultimately eradicate HIV for future generations.
# # #
FOR MORE INFORMATION:
Karen Carpentier
314-328-2704 | kcarpentier@doorwayshousing.org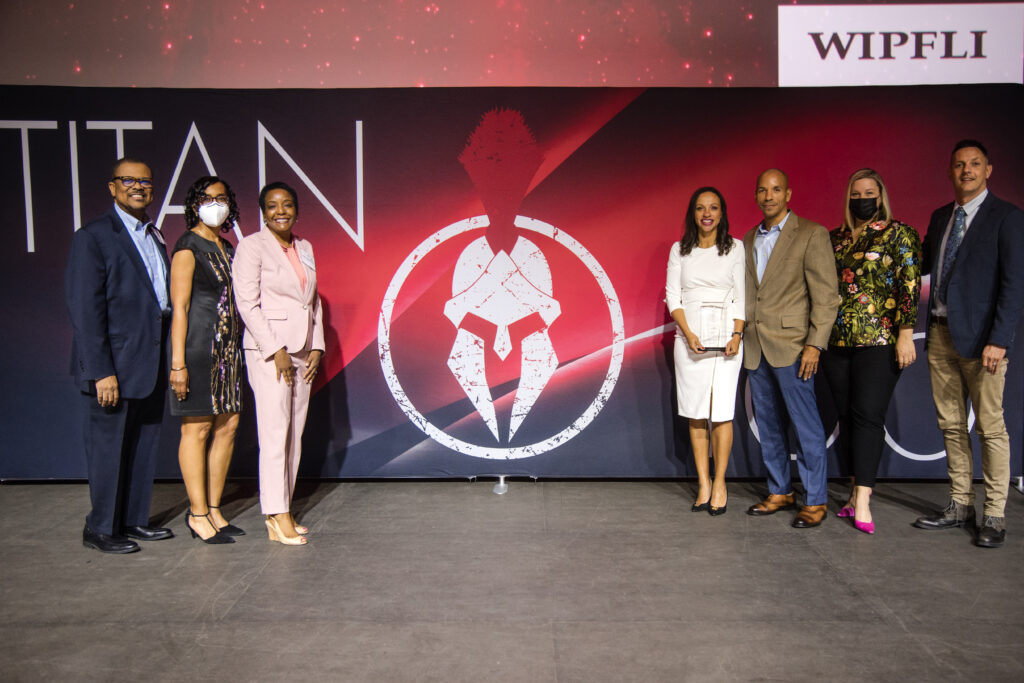 Six guests joined Opal at her Titan table to recognize this professional achievement. From left: Otha Myles, M.D.; Belinda McCoy; April Tyus-Myles, M.D.; Opal Jones; Brian Wade; Amanda Galloway; Todd Garten.