Posted September 2022
DOORWAYS, 4385 Maryland Avenue, St. Louis, MO 63108
Annual Meeting Included
Recognition of Dedicated Volunteers
Awards Presented to DOORWAYS Friends
St. Louis, MO   Each year the agency holds an annual meeting to honor the generosity and spirit of our many volunteers. The 2022 event was held Wednesday, September 7, from 6 p.m. to 8 p.m. at the Saint Louis Club, 7701 Forsyth Boulevard, Clayton, MO, 63105. Special thanks to Mr. and Mrs. Philippe Royall for sponsoring this significant event.
The following awards were presented to recognize outstanding service to the agency. 
The Michael Edlin Award was presented to Ron Jagels.
The Generosity Award was presented to four congregations that have been very generous with our residents:  Centennial Christian Church, Franciscan Missionary Brothers, Union Avenue Christian Church, and Webster Groves Christian Church.
The Volunteer Award was presented to Therese Carver.
The 2022 ceremony also included recognition of the Beyond Tonight Campaign Leadership Committee:

Tom and Carol Voss, Honorary Chairs
John Beatty and Mary Schoolman, Campaign Co-Chairs
Awardee bios are provided below.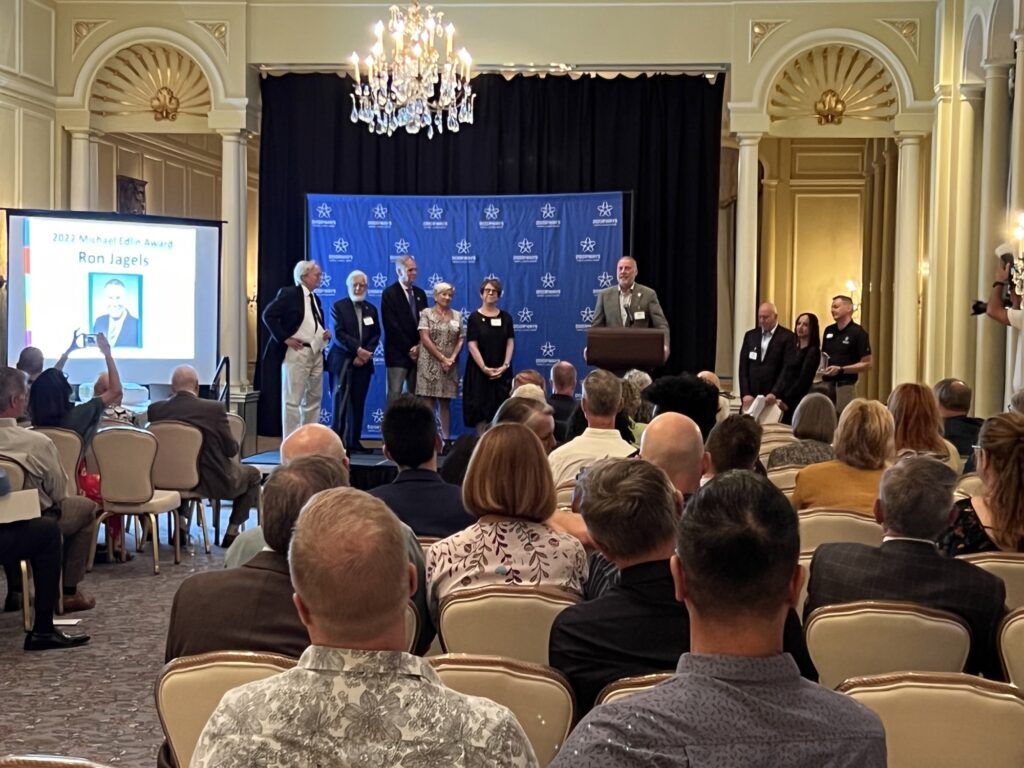 It was nearly a full house on September 7th at the Volunteer Appreciation event.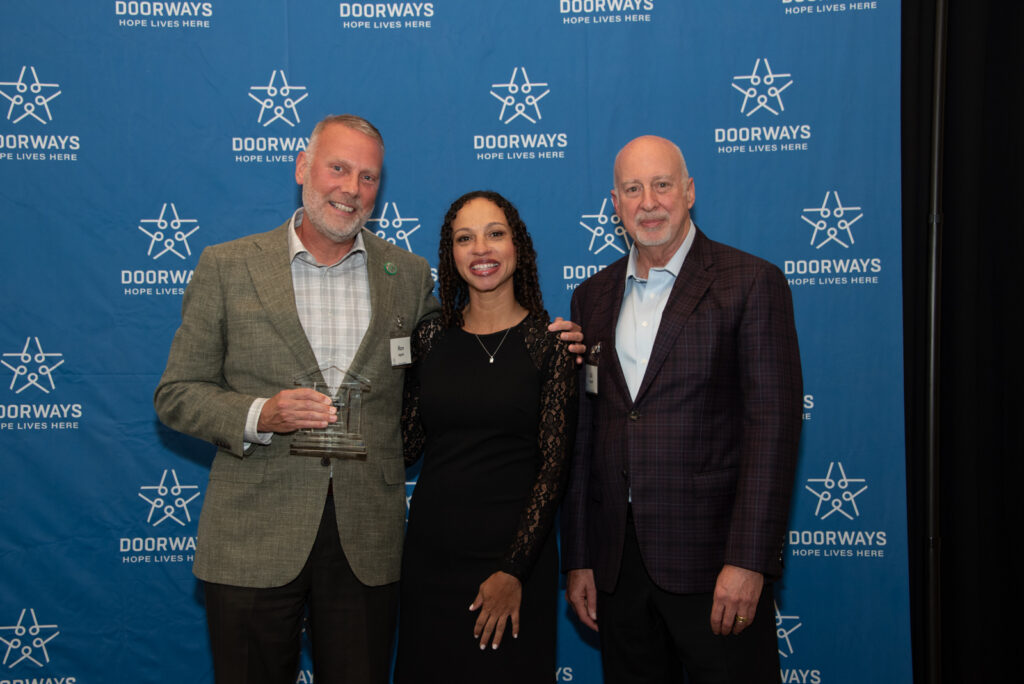 Ron Jagels (left) received the Michael Edlin Award. He is pictured with DOORWAYS President & CEO Opal M. Jones and Ed Giganti, Chair of the DOORWAYS Board of Directors.
Awardee Biographies
Ron Jagels – The 2022 Michael Edlin Awardee
Ron is a Certified Financial Planner and has been a Financial Advisor with Edward Jones since 1998 where he helps individual investors and businesses develop financial strategies tailored to their unique goals and financial needs. Ron also is a General Partner and Regional Leader who leads the development and growth of approximately 60 branch teams within the City of St Louis and St. Louis County. He helped establish the firm's LGBT+ Business Resource Group and also serves on Edward Jones' Community Guiding Coalition which partners with community organizations to help strengthen and provide a positive and meaningful impact in the communities served by Edward Jones.
Ron has been involved with DOORWAYS since 1988 both as a volunteer and a donor; he joined the board in 2013. For the past six years he has chaired the Development Committee and was a member of the Beyond Tonight Capital Campaign Campaign Cabinet, helping the agency to raise more than $8.2M in private philanthropy.  Ron has faithfully served on the RED Dinner Committee, often sponsoring a Patron Table that he filled with friends and colleagues to help DOORWAYS expand its donor base.  Ron and his partner, Tim, are members of the Keystone Society and the Keystone Legacy Society.
Centennial Christian Church, Franciscan Missionary Brothers, Union Avenue Christian Church, and Webster Groves Christian Church – The 2022 Generosity Awardees
The DOORWAYS Generosity Award is presented to an individual or entity that has demonstrated generosity of time, treasure or talent.  This year's honorees hit every mark both individually and collectively.  Individually, each congregation has over the years either provided spiritual support to our Cooper House residents, helped the agency with an intern program, or provided funds for special meals at Cooper House – like Pizza, Chinese food, or a steak dinner.  Collectively, for the past several years the congregations have combined forces to cook, serve and host a BBQ for the residents and staff at Cooper House.  This annual event provides a rare opportunity for the residents and staff to come together, get to know one another better and to socialize.  Thank you to the members and leadership of these wonderful churches: Centennial Christian Church; Franciscan Missionary Brothers; Union Avenue Christian Church; and Webster Groves Christian Church. 
Therese Carver – The 2022 Volunteer Awardee
Therese Carver is the founder and President of Carver Technology Advisors, a Saint Louis-based Information Technology Consulting and Services company. With more than 40 years of experience in engineering and leadership roles related to designing and deploying computing and communications technologies for large organizations and educational institutions, Carver's current mission is to bring professional services and IT Service Management consultation to smaller organizations in the St. Louis area.
Therese was born into a "small" family of eight children to parents who were educators, scout leaders, and foster parents. The most important lessons they imparted were to care for family and friends, work hard at whatever you do, and share your time and talent to better your community.
At DOORWAYS, Carver has volunteered time to advise on IT Initiatives, assist with planning, and act as a coach and sounding board for the DOORWAYS team. Carver also provided assistance on the Jefferson Avenue Campus, including regular participation in the construction planning, review, and coordination of the technology included in the project.
FOR MORE INFORMATION: 
Karen Carpentier
314-406-2268 | kcarpentier@doorwayshousing.org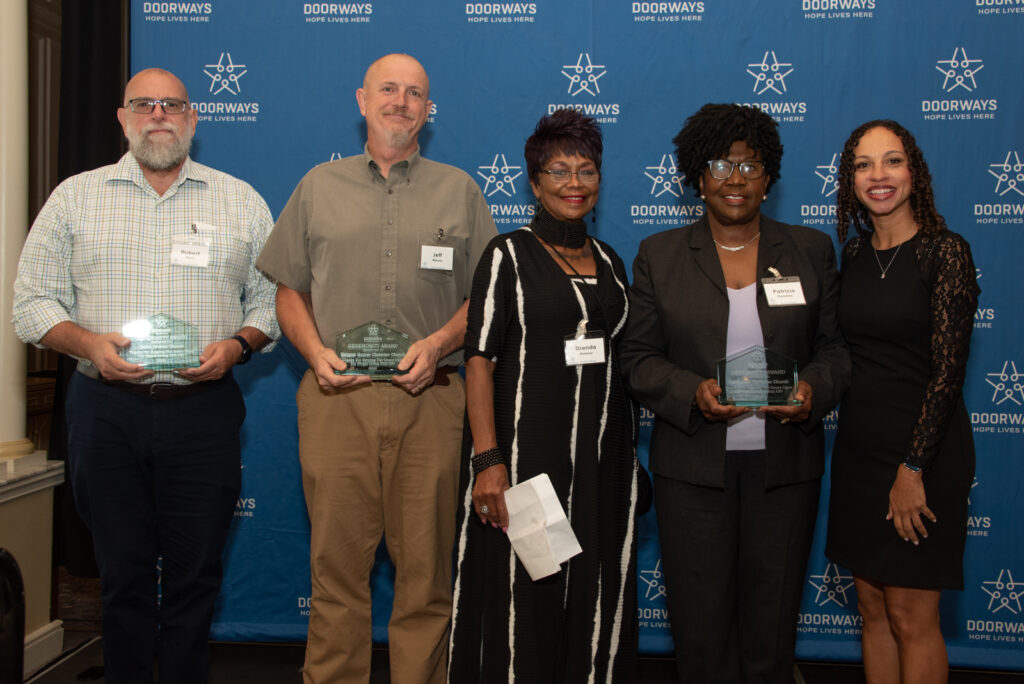 Opal Jones, President & CEO of DOORWAYS, is pictured with the representatives from the four congregations recognized with the Generosity Award.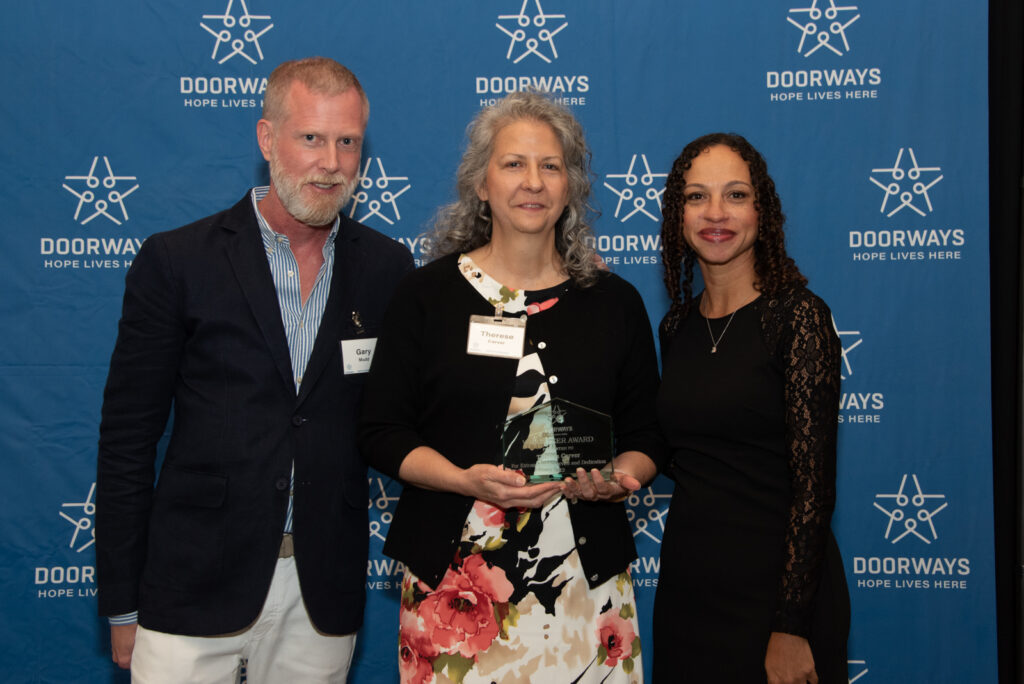 The recipient of the Volunteer Award, Therese Carver, is pictured with agency CFO Gary Mudd and Opal M. Jones.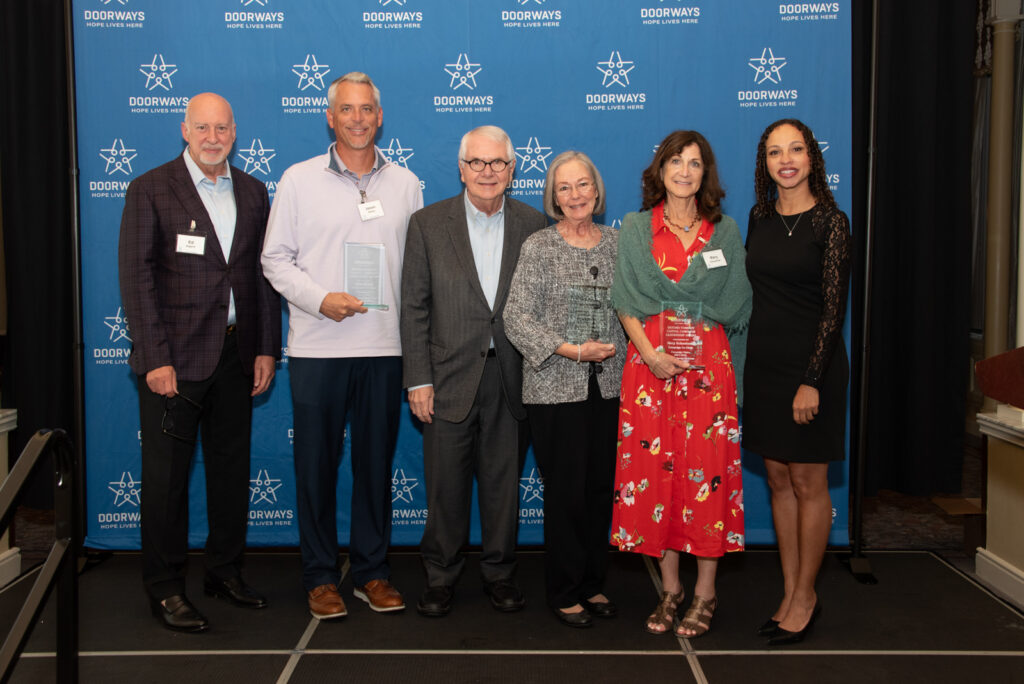 The Beyond Tonight Capital Campaign Leadership Committee.